Holland might not be the first place you think of when you picture a hiking holiday, being a country with 25% of its land at, or below sea level, and the highest point being just 1,053ft. However, there is an extensive network of beautiful landscapes that can be explored not only by bicycle, but also on foot.
Across the 12 provinces, there 877 hiking trails in the Netherlands to discover. Of this we have picked three provinces and have found the best hikes in the Netherlands. In true HolidayParkSpecials style, we wanted to make the process as simple and easy as possible for you and have found accommodation nearby each hike and allow you to have the most enjoyable walking holidays in the Netherlands.
Hiking in Amsterdam
Hiking around Amsterdam is most definitely possible with 99 hiking trails in the province it is in, Noord-Holland (North Holland). We have found two Amsterdam hiking trails for you to choose from, one involves hiking in Amsterdam and the other is hiking near Amsterdam.
You might not think it but hiking in Amsterdam can be done. There is a long-distance path running through Amsterdam West, from IJ. to Stadionplein (Stadium Square) along the Kostverloren canal. Hiking in Amsterdam this way will make your trip to Holland unforgettable. It is a unique walk that you would not expect to find such paradise in the middle of such a metropolis.
Length: 6.6miles
Start Point: The end of tram line 3 at Stadionplein
Level: Beginner

Find the route

here.
Whilst Amsterdam is a bustling city full of beautifully crooked buildings, the outskirts are even more Dutch. A pleasant 6.6mile walk will take you around picturesque Dutch villages in the municipality of Waterland, namely Broek and Watergang. You can overlook Varkensland ("pig country") and laugh at how it should rather be named "cow country" instead because of the lack of pigs in the area!
Length: 6.6miles
Start Point: Bus stop "De Dollard" (Bus 301 to / from Amsterdam Central Station. Alternatively, it is possible to park for free at start point).
Level: Beginner

Discover it

here.
https://www.instagram.com/p/Bpr5xjSj-h5/
TOP TIP:
Due to the fantastic accessibility of Amsterdam, the recommended holiday park is just 40mins from Amsterdam Central Station. Located on the coast of the Ijsselmeer, EuroParcs Resort Poort van Amsterdam is ideal for a family holiday near the Dutch capital. After a strenuous day of hiking in Amsterdam, you can come back, use the wellness facilities and relax.
Discover Europarcs Resort Poort van Amsterdam
https://www.instagram.com/p/B1ELyI8gjpm/
Adventure across Europe from
Rotterdam
Hiking in Rotterdam is set up for the more experienced adventurer, however it is still possible for people of all experience levels to try. Situated in the province of Zuid-Holland (South Holland) there are many chances to try some of the best hikes in the Netherlands.
There can be no excuse not to go hiking in Rotterdam, as nowhere else are four European long-distance paths so close together! The European long-distance paths (also known as E-paths) are an extensive network of long-distance footpaths that traverse Europe. The E8 European long-distance path, E2 European long-distance path and E9 European long-distance path cross over, and just 30mins away in The Hague the E11 European long-distance path starts.
Can you accomplish a 26.8mile walk for charity? Since 2010, the Night of the Refugees has taken place annually. At exactly midnight you will start in the city of Rotterdam and walk until you reach The Hague. This sponsor walk was organised with the goal of raising as much awareness and emergency aid as possible for refugees and regionally displaced people worldwide. Whilst it is demanding, it is an unforgettable experience. If 26.8miles is too much, there are possibilities to walk 12.4miles or 6.2miles, any participation helps raise awareness!
Length: 26.8miles
Start Point: De Maassilo
Level: Beginner
https://www.instagram.com/p/Bywus79IxCt/
TOP TIP:
Holiday Park Delftse Hout is the best place to situate yourself for this holiday trekking in the Netherlands. Not only are the hiking trails in Rotterdam very close, reachable in just 40mins by public transport or 20mins by car, but you can also explore the surrounding area as the holiday park is in the middle of a vast nature area.
Discover Holiday Park Delftse Hout
https://www.instagram.com/p/Btvid2jDCYp/
Hik
e in the Southernmost City in Holland –
Maastricht
The southernmost province of Limburg has the most hiking trails in the Netherlands, with 329 hiking routes. Therefore, there are many Maastricht hiking possibilities, of which we have picked an exciting cross-country one! Starting in Jekerdal you will embark on a beautiful adventure across St. Pietersberg and down into Belgium. Have a break on the banks of the Trekweg Canal in Kanne, Belgium, before heading back to the Dutch side of the border. At just 5.7miles, this makes for a fun walk that can be easily done in under half a day. However, don't think it will be all flat like the rest of Holland, the highest point of this walk is 643ft!
Length: 5.7mi
Start Point: Fort St. Pieter
Level: Beginner

The route can be found

here.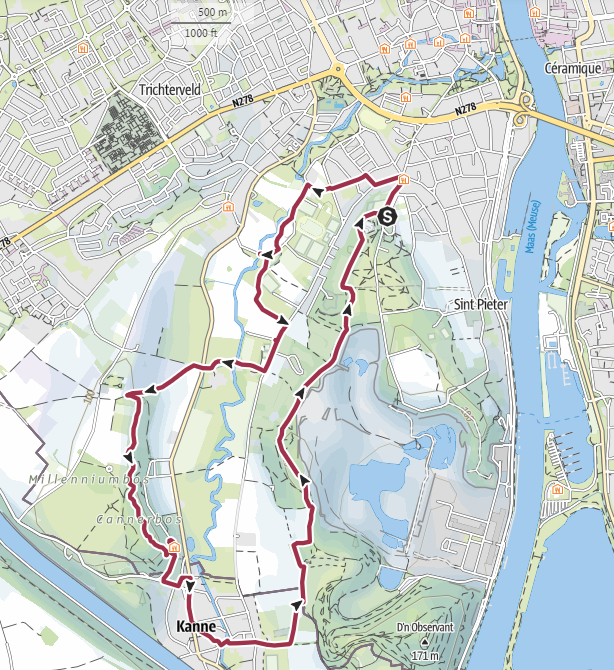 TOP TIP:
It goes without saying that hiking Maastricht is distinguished by the absolute miracle of nature that you get to experience. Maastricht is the epitome of a place with rich history, so you must stick around to explore it. Shopping, culture and history enthusiasts will enjoy exploring Maastricht. Stay at the Dormio Resort Maastricht in a beautiful cottage just outside of the city centre!
Discover Dormio Resort Maastricht
https://www.instagram.com/p/BZEd_BMFSjK/
Surprise Tip:
Walking on The Veluwe
We could not recommend hiking in Holland without including The Veluwe! Voted the finest area of scenic beauty in the country, this versatile region will satisfy everyone. Walk along Klompenpaden ('clog paths'), historical off-road routes, through fields, country estates, along streams and across farms. With a range of hiking routes, it is a walker's paradise. No matter which route you choose, make sure you allow plenty of time to stop and look around.
One of the most beautiful hikes in The Veluwe is from Oosterbeek. Discover the varied landscape and the cultural history of the area. Starting at Station Oosterbeek you commence on a 10.5mile walk and will become acquainted with the beautiful surroundings. It is more suitable for more experienced hikers due to the uneven path and some parts you must climb. Don't let this put you off, the views make it extremely worthwhile and you may even encounter various wild animals!
Length: 10.5mi
Start Point:

Stationsweg

,

6861 EG, Oosterbeek

Level: Experienced
https://www.instagram.com/p/B1YOfjhH_s3/
TOP TIP:
If you want to hike around The Veluwe National Park, holidaying at Droompark Hooge Veluwe is the best location. Situated immediately opposite the entrance to the Hoge Veluwe National Park, you will be surrounded by the endless natural beauty that nature provides. There are endless opportunities for day trips, including visiting the city of Arnhem or discovering the magnificent park, on foot or by bicycle.
Discover Droompark Hooge Veluwe
https://www.instagram.com/p/BpfIoKHB1zv/
So, there you have it, trekking in the Netherlands is feasible even if there aren't any mountains!
If you want to search for other accommodation opportunities, we have a page dedicated to holiday parks near hiking trails, and it doesn't just include Holland!