After the Christmas holidays and the excitement for the new year winds down, the month of January can feel a little bit slow and dull. However, you can beat these winter blues by booking your next getaway so that you can have something to look forward to. The February half term holiday is just around the corner which is why we have come up with a variety of holiday ideas in February for you, as well as a whole host of half term holiday deals and discounts to get you raring to go. School's out, which means you can all enjoy a family holiday in February. Read on to discover the best February half term holiday destinations.
When is February half term 2020?
Wait! You can't book a holiday wihtout knowing the dates, so if you were wondering "when is February half term 2020?" here's your answer: Mon, 17 Feb 2020 – Fri, 21 Feb 2020.
Visit a park with an indoor swimming paradise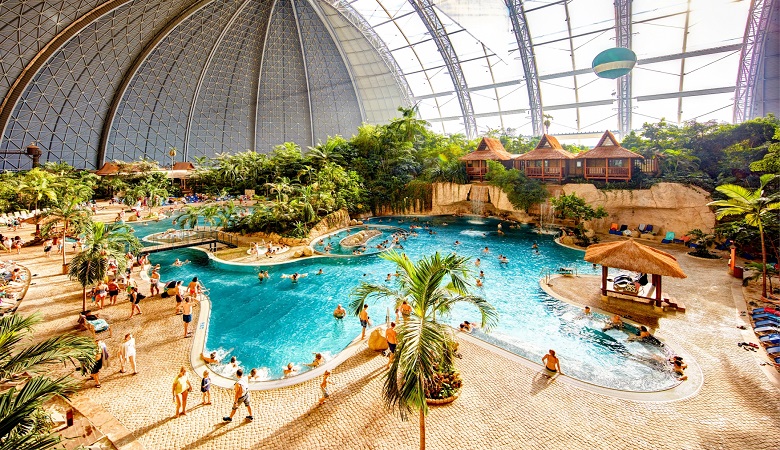 It's still cold outside, but that's no reason to spend your February half term locked up indoors or at home! You can visit one of our many holiday parks with indoor water worlds that are designed for those who still want to relax in a swimming pool during the winter. For that reason one of our favourite February half term holiday destinations is the Tropical Islands Resort, situated just 60km south of Berlin and inside an old airport hangar! This is one of our all-time favourites for a family holiday in February. As its name suggests, it gives off that tropical summer feeling all year round and offers some amazing facilities. Included in the mix is Germany's tallest water slide tower which reaches a height of 27 metres. You can enjoy your family holiday in February in a Scandinavian style holiday cottage and treat yourself to a sauna and spa day while the kids are entertained by the slides and attractions. A day trip to Berlin is also highly recommended.
Tropical Islands: Ultimate Guide
Escape to the hills of Luxembourg
Now Luxembourg might not be the first place you think of when it comes to a family holiday in February, but we're here to give you inspiration on one of the most stunning February half term holiday destinations! One of our February half term ideas is to get outside with the family and Luxembourg has some of the most picturesque natural settings and reserves with numerous opportunities for hiking, trekking and cycling. Why not take a chance this school holiday and visit the small country that has a lot to offer. At Domaine la Sapinière you can holidayon the edge of a large nature reserve, perfect for those who love the serenity that comes with being surrounded by beautiful trees, hills, and rivers. The family-friendly holiday park has its own heated swimming pool for you to take advantage of and there is also activities for everyone with different sports such as mini golf and tennis. Of course, there is also the opportunity to explore the beautiful surroundings using the many hiking and cycling trails as well as take a boat down the Our river.
Surprise the kids with Villages Nature Paris
There is no better place to take the children during the school holidays than Villages Nature Paris. Your kids will definitely go back to school eager to talk to everyone about one of the best February half term holidays they've ever had! The holiday park is well known for its imaginative eco-friendly designs and child-friendly architecture. The indoor waterpark is every child's dream which comes equipped with 8 different slides. The park also offers great wellness facilities with a spa offering a hammam, sauna, spa treatments, a herbal tea room and much more. You will not have to worry about the children while you sneak away as they will be kept entertained by the enormous playground or the numerous kids clubs. The whole family can also indulge in family-themed activities such as the chocolate workshops, arcade games and more. To top it all off, the park is located only a short distance away from Disneyland Paris, so a fairytale filled day trip is only a short distance away. Rest assured, a trip to this holiday park is bound to top all their 2020 school holidays and a great family holiday in February.
Go skiing or snowboarding in Germany
When writing about February half term holiday destinations, we just had to include a winter sports option! It can be a tricky time to find good deals but at HolidayParkSpecials we have a great selection of deals and discounts for holiday parks in fantastic winter sports areas in Europe. Gemünder Ferienpark Salzberg offers peaceful apartment complexes in the stunning Eifel National Park, the perfect place to unwind during the February half term. Whether you want to enjoy a cross-country skiing getaway in a luxury holiday park or a snowboarding adventure high up in the Land of a Thousand Mountains, we have the park to suit your family's needs. Have a look at our fantastic selection of holiday parks in Germany and enjoy an unforgettable family holiday in February.
Family ski holiday for under £600!
Half term ideas February 2020
Are you ready to book your next family holiday in February? Browse through our fantastic half term holiday deals and discounts that we are offering this February half term.